Got a pre-order question? 1-904-270-9320
AWeber On Steroids
AW Pro Tools powers up your AWeber marketing in minutes.
Do more
Earn more
Grow your list faster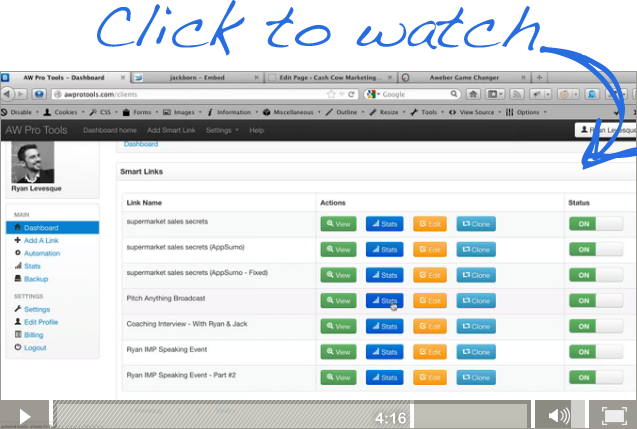 If You Use ... Then You're Going to Love This:
Tag Subscribers

Tag Subscribers When They Click Your Email Links.

Do you realize how powerful (and profitable) it is to tag your subscribers based on their actions?

When you can send out targeted broadcasts to specific segments of your audience based on what they've clicked on in your prior emails - your sales go up, your email complaints go down, and your subscribers feel like you're having a one-on-one conversation with them.

Move or Copy

Move or Copy Subscribers to Another List with One Click

Never before has it been possible with AWeber to send out a special tracking link in your emails that lets you move or copy someone to a new list when they click. You can bypass the extra optin and bypass the confirmation link. As far as your subscriber knows, they just clicked a link. But AW Pro Tools automates your follow up marketing in a way you've never been able to do before.

"Smart Link" Technology built into AW Pro Tools gives you access to marketing techniques that used to cost several hundred dollars per month with an AWeber competitor. Now you can avoid the headache and hassle of switching your email provider and save a ton of money.

Daily Backups

Daily list backups.

Your list is vital to your business. So rest at ease because now AW Pro Tools has you protected with daily backups. Your list data is locked down tight with the same encryption cypher used by the NSA - the top spy agency in the United States that's even more secretive than the CIA. The encrypted data is further locked down by the security experts at Rackspace - the hosting partner for AW Pro Tools. Bottom line: you get the safety net of having a daily backup while keeping even the likes of James Bond or Jason Bourne out of your data.
Ready to Turbo Charge Your AWeber Marketing?
Auto Move

Automatically Move Subscribers to a New List When They Reach the End of Your Autoresponder Sequence

AW Pro Tools lets you create "Automation Robots" that automatically detect when a subscriber has received all of the autoresponders in a specific list. You can instruct your robot to move the subscribers to a new list and from there on out it's "set it and forget it".

Detailed Stats

Detailed Stats

Quickly see how many clicks your Smart Links are getting. Zoom in on the details or zoom out. Intuitive and powerful data for improving your email marketing through AWeber.