Got a pre-order question? 1-904-270-9320
AWeber On Steroids
AW Pro Tools powers up your AWeber marketing in minutes.
Do more
Earn more
Grow your list faster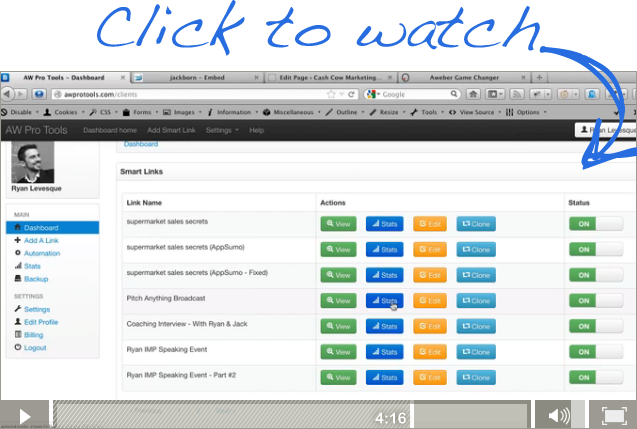 If You Use ... Then You're Going to Love This:
Tag Subscribers

Tag Subscribers When They Click Your Email Links.

Do you realize how powerful (and profitable) it is to tag your subscribers based on their actions?

When you can send out targeted broadcasts to specific segments of your audience based on what they've clicked on in your prior emails - your sales go up, your email complaints go down, and your subscribers feel like you're having a one-on-one conversation with them.

Move or Copy

Move or Copy Subscribers to Another List with One Click

Never before has it been possible with AWeber to send out a special tracking link in your emails that lets you move or copy someone to a new list when they click. You can bypass the extra optin and bypass the confirmation link. As far as your subscriber knows, they just clicked a link. But AW Pro Tools automates your follow up marketing in a way you've never been able to do before.

"Smart Link" Technology built into AW Pro Tools gives you access to marketing techniques that used to cost several hundred dollars per month with an AWeber competitor. Now you can avoid the headache and hassle of switching your email provider and save a ton of money.

Lists Clean Up

Daily lists cleanup.

Automatically delete unsubscribed subscribers from a specific lists that you choose. You can reduce your monthly fees by cleaning out your lists of unsbuscribes.
Auto Move

Automatically Move Subscribers to a New List When They Reach the End of Your Autoresponder Sequence

AW Pro Tools lets you create "Automation Robots" that automatically detect when a subscriber has received all of the autoresponders in a specific list. You can instruct your robot to move the subscribers to a new list and from there on out it's "set it and forget it".

Detailed Stats

Detailed Stats

Quickly see how many clicks your Smart Links are getting. Zoom in on the details or zoom out. Intuitive and powerful data for improving your email marketing through AWeber.
Look What Else You Can Do With AW Pro Tools
Click below to explore how AW Pro Tools improves your Email Marketing 24-7
"This is a game changer"
This is a game changer for anyone using AWeber.

PS - I was referred by Tom Kulzer himself... nice affiliate to have! Justin Brooke, Expert Media Buyer
"You have a terrific product here"
I have started to heavily integrate AW Pro Tools into my business.

You have a terrific product here Jack. Ben Cummings, Chiropractic Marketing Expert
"The single greatest marketing tool for AWeber"
AW Pro Tools is easily the single greatest marketing tool ever for AWeber. Hands down.

Frank Kern
"For everyone using AWeber"
EVERYONE using AWeber should be using AW Pro Tools


Ryan Lee
"it's a MUST-HAVE tool"
Any marketer using Aweber would be CRAZY not to use AWProTools. It just flat-out gives you a serious competitive advantage over the marketers who aren't. And that's why I tell all my clients who use Aweber that it's a MUST-HAVE tool. Period. Todd Brown
"I am amazed!!"
I tell you... I am amazed!!

Thank you for creating such a FANTASTIC product! Allison Miura
"AW Pro Tools rocks!"
AW Pro Tools rocks! Finally! An email system with marketers in mind! Thanks Jack and AW Pro Tools for bringing the sanity back into automated email. Enoch Sears
"I'm seeing revenues grow"
AW Pro Tools not only saves me time with its automation features, but I'm also seeing revenues grow because of features like the mobile button and universal email formatter. I'm barely scratching the surface of its features, but I'm a happy customer who'll be digging deeper into the toolset this year to save even more time and further improve my conversions/increase revenues. Johnn Four www.roleplayingtips.com
"EXACTLY what I was looking for"
Thanks for this awesome tool ... EXACTLY what I was looking for and couldn't believe I hadn't heard of it before now. Trying to wrap my brain around all of the possibilities. Debra Reed
"I'm paying a fair bit less for my list"
I have boosted all my product based series to 30 emails each, so if someone signs up on one, they get 30 days of targeted messaging on the same product, after which time they are automagically shifted accross to my main broadcast list now. Sales tracked to the AR sequences have more than doubled since the transition, and I'm paying a fair bit less for my list due to less duplication of names. Sweet! Jonathan Boettcher
"Excited to see what else this can do!"
I did a promotion last week and mailed to a custom segment built from subscribers who clicked my AW Pro Tools link from the initial couple of mailing - that segmented mailing generated a landslide of additional sales and I'm sure it's because I was able to target subscribers who had looked at my offer but not yet "bitten" :) Excited to see what else this can do! Kristen Burgess
"This awesome app does what I need and more"
I've been using AW Pro Tools for some time now and this awesome app does what I need and more when it comes to automation marketing using AWeber and at a price tag significantly less than other solutions for the same features. I am more than happy to recommend this to anyone using AWeber and of-course to my clients and friends for all their marketing needs using Aweber. Kostas Papadakis
"we are CRUSHING IT"
Jack we are using AW Pro Tools on ALL my businesses & we are CRUSHING IT thanks to you & this killer friggin tool. SO WE ARE MAKING 3 - 5 TIME THE MONEY ... EVEN THOUGH EACH SUBSCRIBER IS ACTUALLY BEING SENT "LESS" CPA OFFERS A MONTH THAN WE USED TO SEND THEM... AND THAT OFFER IS BASED ON THEIR SPECIFIC INTEREST!!! Kevin Dasilva